National Drinking Water Week is May 3-9, 2020
The Public Awareness Committee has put together some resources to help your utility celebrate Drinking Water Week.
Event Handout:
We have developed a handout that you can use if you are hosting an event or to provide to your customers that visit your office. The handout is a fillable PDF that provides information about Drinking Water Week, your utility, and interesting facts about water. All you need to do is fill in your utility information!
To download the handout, please Click Here.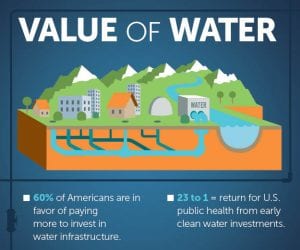 Resources:
Resources developed by American Water Works Association for Drinking Water Week.
https://www.awwa.org/Events-Education/Drinking-Water-Week/DWW-Materials
A toolkit to help you communicate the value of water, water and wastewater services, and the need for infrastructure investment. The toolkit includes info graphics, bill stuffers, social media graphics and more.: https://news.wef.org/communicating-the-value-of-water/
Resources from the Water's Worth It campaign to bring attention to the value and importance of water and the infrastructure that supports it; the work of water professionals; and the need for everyone who uses water to help protect it for today and the future. Resources include a 2-minute video, fact sheets, social media message, and more.: https://watersworthit.org/resources/
Downloadable, pre-made social media graphics all about the Value of Water: http://thevalueofwater.org/content/social-media-graphics
30-second and 2-minute YouTube videos that are shareable on your social media platform. The message is universal, but does focus on imagining a day without water: http://imagineadaywithoutwater.org/resources/video
Resources developed for Infrastructure Week; May 13 – 20, 2019, including several universal water specific downloadable social media files.:  Social Media Shareables